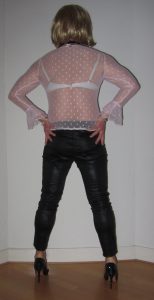 I decided that I was going to give my submissive some challenging assignments that when done, slut had to photograph the proof of carrying the challenges out.
The first challenge I gave to my phone sex sissy was to go out shopping and buy something only a lady would buy, but sissy needed to have obviously color polished nails. The challenge took sissy a couple of weeks to accomplish. Just this past week, sissy finally had a night to herself and was able to complete the assignment. Sissy had chosen a light pink nail polish that you had, but when you went to put it on, the brush applicator had come unattached so you could not use it. The only other color you had handy was a really bright hot pink which you had to use.
Sissy decided to wear a ladies thin pair of black slacks, black thigh highs, black leather Mary Janes, ladies purple cowl neck sweater, heavy black mascara and a very light lipstick. No wig, earrings or other makeup, so it was obvious you were a sissy, not a tranny, CD, TS, but a flaming sissy. Oh, sissy also had on ladies eyeglasses too, just blue with a small design on the temples nothing super bright, but obviously ladies all the same.
Sissy also put over her shoulder his ladies black leather cross-body purse (purse must match my shoes), the thin leather shoulder strap lay nicely between your boobs which were sized up with a nice NuBra enhancer as well as a nice Bali black lace bra with matching panties.
You went to a department store that you like to go to, you looked around all of the ladies clothing, you were easily made by the sales associates who when you walked by them, smirked and whispered to one another. Other shoppers in particular ladies were looking at you also, some with knowing smiles, others with shock….lol.
You tried on some ladies boots and decided to buy them. Seeing as part of your assignment was to buy something feminine, you wanted to be served by a younger lady sales associate. You had to hang around a little until the right one came back to the service desk. She was very pleasant, but smirking and smiling all of the time, in particular when you were fumbling around in your purse for your ladies wallet all the time with your bright pink nails on display. As you were challenged, you took a picture of the boots that you bought. I just love to humiliate, are you next?
Candy
1-888-430-2010
#Submissive #Sissification #HumiliationPhoneSex