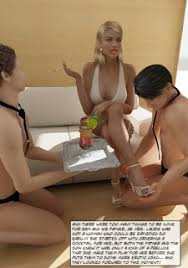 Sometimes babies need to be dominated. There are times when babies have been so bad that all of that misbehaving cannot go unpunished. And, I am a mommy who loves to dominate her babies – especially the sissy babies. Most days I'm a domme mommy, but there are times when a sweet baby needs to be completely dominated and punished. If he's only wet his adult diaper then I will only give him a good spanking, but if he has completely soiled himself and is throwing a fit then that is a totally different story.
My last baby did just that. I took him out for a lovely lunch at one of my favorite restaurants. It was a beautiful winter day. The air was crisp and we were bundled up and ready to meet a few of my girlfriends. I was excited for my dearest friends to meet him, but he began to get fussy and I noticed he soiled his adult diaper. I could see from his trembling lip he was so embarrassed to be in front of my lady friends, but I knew he had to be punished. There were only two options and I knew which one I had to choose.
Tammy
1-888-430-2010
Click here to talk with a phone sex mommy.
#dommemommy #adultbaby # mommyphonesex