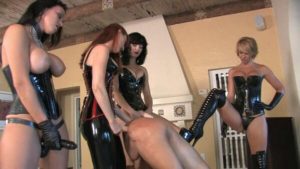 I grab you face and tell you that you'll be a good little sissy baby. You nod your head and say "Yes Mommy". I wrangle your cuckhold and tell you that your cock is mine and no longer yours. Still your reply is,"Yes Mommy." I tell you that tonight we're going to make you the perfect sissy baby. All the women you see around you are neighbors and coworkers. We all stand around
you with our strap-on cocks ready to make you our sissy bitch. We stand around you making you get on your knees to suck our cocks. We take turns each shoving our huge cocks in your mouth as you attempt to deep throat and choke on them. For being a good girl. now its time to claim your sissy reward. We bend you over to the bed, each taking turns shoving out huge cocks in your tight little sissy hole.
Liz
888-938-7382
Click here to chat with phone sex Mommy Liz!