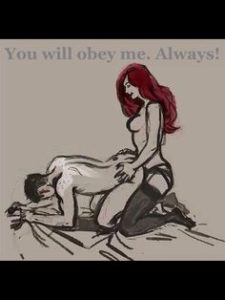 As the little
Sissy
opened his mouth I stuck the nine-inch strap-on cock in it.  Of course, he gagged a bit but I just grabbed the back of his head and guided it down the shaft.  You want to wear panties in my house then you will learn to suck cock too.  Up and down I pushed his mouth listening to him whimper and moan.  He mumbled something about not being

Gay

but I just kept moving his head up and down telling him he better get the cock nice and wet for where it is going next.  Satisfied that I had broken his spirit it was time to break something else.  I pushed his head off the strap-on and told him to get up and crawl over to the bed as I swatted his ass.  I positioned him on the bed with his ass hanging over it and proclaimed well now my little Sissy here goes your virginity.  I spit in his ass and lined up behind him as he started telling me no and please no, I reached around and stuck a pretty pink pacifier in his mouth.  He had no idea when I was done that he would be my little

Adult Baby Girl

.  I buried all nine inches in his ass, nice and fat and went in as deep as I could while tears streamed from his eyes telling him this will teach him to disobey me again.  I fucked his little virgin ass nice and hard and told him there would be some changes after this.  Need to be fucked in your little whole like a slut, Call Me!
Tawny
1-800-430-2010
Clik HERE to chat with a Phone Sex mommy
#PhoneSex    # phonesex   #TawnyM   #TawnyMadison #Phonesex   #fetishsex   #strap-on