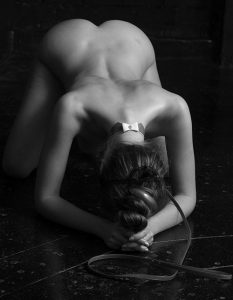 Do you have a difficult time understanding what a dominant gets out of the D/s dynamic. What do BDSM Dominants receive from our dynamic? Being submissive will this help you serve your master?
Do you feel that as a submissive, they are sometimes more on the receiving end of the stick? The submissive is always the one who is getting tied up and asking to be flogged/spanked/made breathless, unable to control yourself and your desires. Sub's are the one who gets to experience subspace, being put in a cage and etc. Sub's are always looking for a person stronger than them to take control of their life. Sub's hand themselves to their Master/Mistress saying, "You have the power, now figure out what to do with it." Subs often look to their dominants for emotional care and direction. They are the one being touched and less often doing the touching. They hand themselves over to the dominant, become their responsibility.
This is a HUGE responsibility and a lot of work. As a dominant, they have the power to break someone. Even if it's just play, the dominant has to always make sure the sub is being guided the right direction and has to get in the subs mind to bring the point where they let go. As a submissive, they have to find the person who is worthy of their trust. It's not easy to find dominant that is worthy of a submissive's trust just as it is hard for a dominate to find a submissive to trust. Submissive needs to let their independence go. When some do it, it is easy to let go to the dominant and there is no other place they would rather be.
Submissive's absolutely thrive on the ability to give themselves to their dominant for them to do with as they wish. Phone sex submissives love serving their dominate. They love making the dominate feel 10 feet tall and bulletproof. They love that the dominant looks in to their mind to find their kinks and puts the effort in to mind-fuck me a little or a lot.
What does the dominate get out of it? They get the gift of submission, but also get to explore being a domme. Some domme I have fun for a little bit of working with the sub's but then get bored. Some domme feel like they have to impress the sub which is a lot of pressure. dominant's need to know what they are doing. Dominate needs to enjoy what they are doing or there is will not be any fun either party.
So what do you receive out of being a dominant? What is the turn on sexually? Do you always get sexually aroused? What aspects of the D/s dynamic kink your mind and how? What do you feel when someone is at your feet? What does Dom space feel like for you?
To some domme's power is sexy. Some kinks can't be explained as to "why". It just….is. As some domme's found out, they can't just dominate someone and go through the motions without feeling it deep down. It will empty for you. It is highly fulfilling for a true dominant.
As a dom you get as much as the submissive gives, when you are together in the moment it is THE exchange. The submissive has asked several times how/why a dominate can give so much and seem to take so little. Submissive's beg to be able to make their dominate feel what they make them feel. Dominate gets so much that words cannot convey ecstasy.
Yes, submissives put their safety and lives in the hands of the dominate but for most the rawness is the essence of BDSM. Explore the "Sub" side as some do, they liked that space in a very narrow field not fulfilling enough to some. The caressing, teasing, licking, kissing, flogger, whip, clamps, face slapping many things at the hands of experienced Female Doms.
Candy
1-888-430-2010
#bdsmfantasy #bdsmfetish #bdesmphonesex